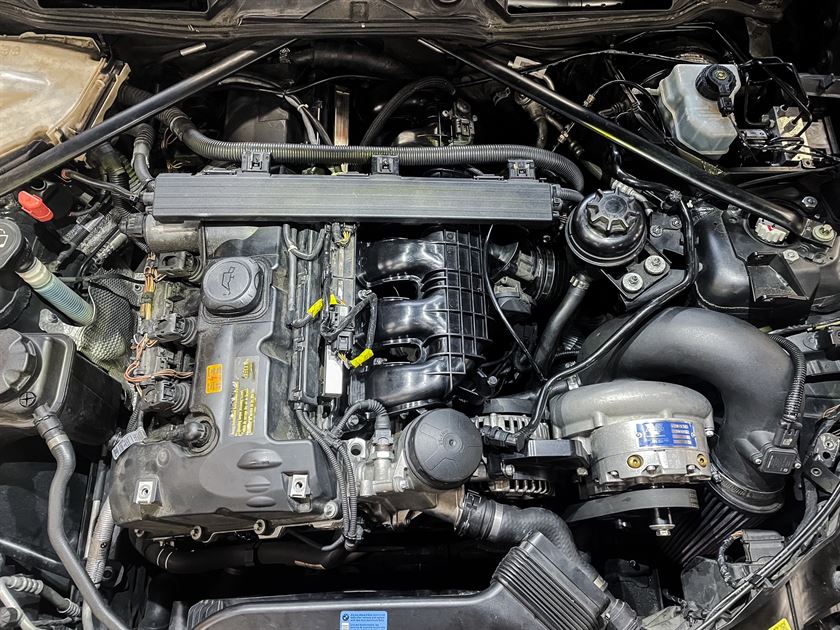 At

10-11-21 08:00:00

Evren Uner

Read Time: 1 minute read
Supercharged N52 E90 is back for 400whp!
A few months after we let our 350whp 9psi supercharged N52 out into the wild, the owner is back for more! This time, we are swapping in an N54 intake manifold, and a slightly smaller 3.4" supercharger pulley resulting in a peak boost pressure of 11psi. The benefits of the N54 manifold stem from its simple, large, and boost oriented design, the manifold should outflow the original 3-stage intake system whenever there is positive pressure.
Take a look at our last session with this car to see what is needed to bring an N52B30 to the 350whp mark:
350whp-n52-and-how-we-got-there
With the new hardware installed, its time to get some dyno time in!
As expected, right as we ramp past 5psi @ ~4500rpm, the N54 manifold begins to show its superiority. Not only does the N54 manifold support power levels approaching and far beyond 400whp (N54), there is also no torque loss at any RPM with the help of the smaller SC pulley.