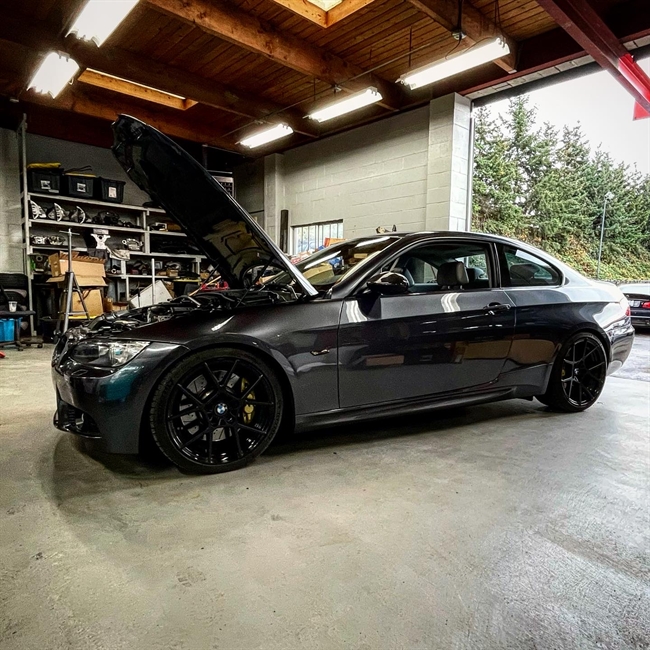 At

01-12-21 11:00:00

Zack S

Read Time: 2 minute read
350Whp N52 and how we got there!
Recently, we had a 2007 328i dropped off, featuring a centrifugal supercharger setup. After coordinating with the owner, we came up with a plan to spice things up a bit for this non-M underdog.
A bit of back ground on the car:
ESS supercharged 5.5psi
3-stage Intake
F30 Sport BBK
M3 brake booster
Koni nonadjustable struts
Modified Akrapovic exhaust
We took the car and immediately baselined it. The mighty N52 managed 271 Whp and 237 wtq. A relatively respectable number on paper considering these cars make below 200whp/200wtq from the factory, but more importantly on the street it didn't feel significant, even with the supercharger.
To correct this we outlined a base plan with a goal of 350+whp. To do this we would need to increase the boost. Unfortunately there wasn't a pulley off the shelf that would do it. A few calls to Vortech and a little machining later, we received a custom pulley. We needed to machine the snout just slightly to fit the offset of the pulley. To help keep tension we added a new idler/tensioner pulley setup, and a smaller belt.
Next, we knew we would need to uncork the exhaust a bit. The go to solution: Headers. Called our friends down at Active Autowerke and picked up their cat-less headers.
Finally, Octane/heat: Here we only have 92 octane at our standard pumps, and if we were going to really make these goals happen we either need charge cooling or water/meth injection. Budget/Timeline constraints means water meth. Snow performance 2.5 it is.
Finally, to dress the whole setup, we added dual billet gauge pods, AEM wideband O2 system, and Snow Meth/Boost gauge.
We wanted a clean install, and to do this properly we pulled the interior apart, ran all lines and electronics through the interior. We added a new fused relay to supply power to both gauges and the meth kit. We installed the meth setup in the trunk in the spare access box so it goes unseen.
On the first night of tuning we put down nearly 300wtq, at which point the clutch begins to slip! We knew that a stiff/grabby aftermarket clutch assembly would not be acceptable for this project, so we start looking at clutches assemblies laying around the shop. We soon realize that we can use a 335is/550i pressure plate with another factory clutch and flywheel. We order up fresh parts and now we have an estimated 500+ TQ holding capacity with a comfortable organic engagement.
Back onto the dyno for some fine tuning, and we approach the 350whp mark at ~9.0PSI of boost with the customer desired stock rev limiter of roughly 6750. The cherry on top with this car is that it is an absolute monster now. The horsepower output matches that of a factory E9x M3's, and exceeds its torque by 20%. The power band is absolutely perfect, and we can honestly recommend the 9PSI N52 for any enthusiast.