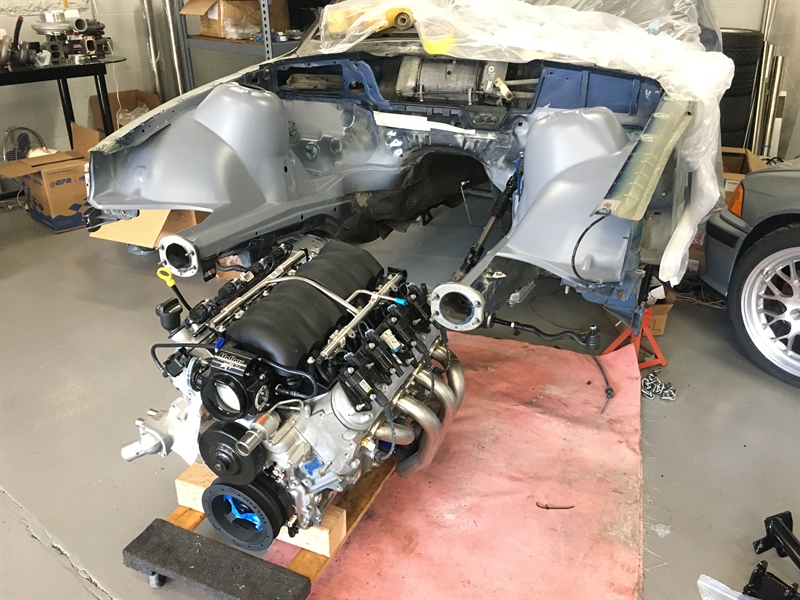 At

09-03-20 10:20:00

Evren Uner

Read Time: 1 minute read
LS3 Swapped E36 M3: Intro
We love our BMW engines, of course, but in some cases a V8 power-plant may be exactly what the E36 chassis needs. A 1995 M3 arrived at our shop as a bare shell, along with an array of parts including an LS3 crate motor with a Vorshlag swap kit, T56 Magnum transmission, and Moton Clubsport suspension!
The goal for this build is to create a dual-duty streetable track toy. In addition to maximizing the limits and performance of the car, we will be retaining comforts such as air conditioning, and a reasonable level of NVH (noise, vibration, and harshness). Many new products will be unveiled through this build, including a Ford 8.8 differential conversion, modular intake/airbox system, custom paneling for switches, relays, fuses, and wiring covers.
Here is the humble starting point, a 25-year aged M3 engine bay:
After welding all the original panel seams, smoothing, and laying down a few coats of primer, things are starting to look different.
Freshly refurbished subframe and Z3 steering rack ready to go in, along with brand new suspension bushings and components.
Prepping the LS3 and transmission for the first test fit:
After some bodywork to clear the American Racing Headers, the LS3 is in its new "unnatural habitat"!
At this point you may be wondering, "That engine bay looks good, but are you just going to leave it grey?"
The framework for the LS36 is all in place, but we have countless more projects and additions planned for this build. Keep following along to see what we have in store!