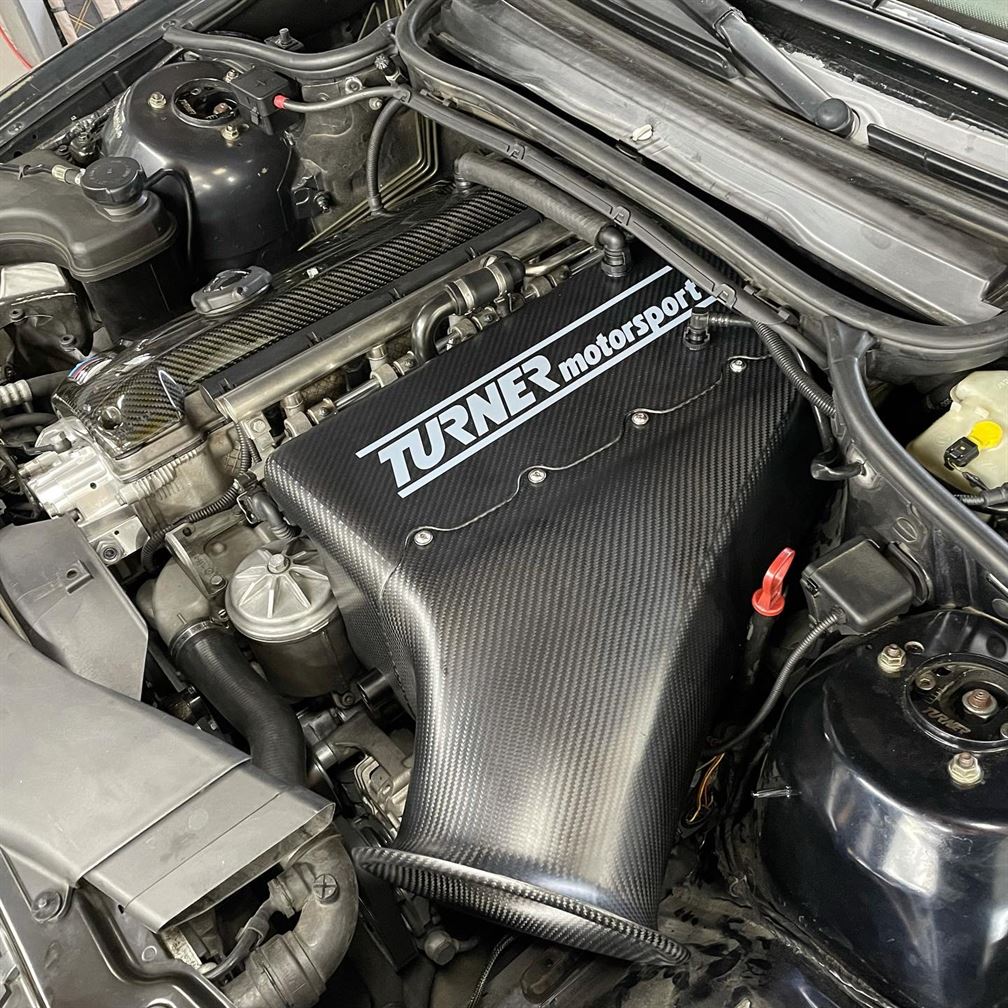 At

05-14-21 09:00:00

Evren Uner

Read Time: 1 minute read
S54 Turner Motorsport Airbox On The Dyno!
The S54B32 engine from the E46 M3 has long been enjoyed by enthusiasts for its ability to thrive at high RPM's, as well as unleash usable torque across an impressively wide RPM range.Â
The key contributors to this performance are:
Infinitely variable double VANOS with over 2x the range of the M/S5x design!
Individual throttle bodies with 3x the total cross sectional area over M/S5x!
Impressive cylinder head port design and mechanical strength!
Its no surprise that there is much more potential from this engine considering what it is capable of in stock, emissions ready form.
The most notable restriction is the section 1 exhaust (headers) with the catalytic converters right near the engine. We have already proven gains of 30-40whp over a completely stock S54, with nothing more than exhaust and proper tuning!
Now, what about the intake side of the engine? We have seen 6-8whp gains on the dyno from simply removing the filter from the factory system, but what if there is more to be had?
The original CSL airbox from BMW has been an extremely desirable modification for those looking to eek out every bit of naturally aspirated power out of their S54. Now, Turner Motorsport has released a new option for a fraction of the price, with flow testing results of >20% over stock; in fact, higher than the original CSL box!
To learn more, we tested and tuned for the TMS CSL Airbox on two of our S54 propelled projects; A mild street built E46 M3 with stock exhaust (Except for Megan Racing section 1), and a full track-built E36 M3 with custom long tube headers and full 3.5" race exhaust.
The mostly stock, 220,000 mile E46 M3 on the dyno with the TMS CSL airbox:
Already making 312whp in Stage 2 form, the M3 put down 334whp through the TMS airbox for a gain of +22whp and +12wtq!

Now, compare that to the results from our Stage 2 tuning which maximizes the gains from headers. With headers installed, the Stage 2 tune picks up +25whp & 6wtq; This is in addition to the gains from simply installing the headers with no tune!
The E36 track car is running Stage 3 (AlphaN) software using open trumpets out of a stock S54 airbox.Â
TMS CSL airbox installed and ready for development!
Our E36 M3 which is already putting down 362whp & 301wtq, manages to gain +10whp and +6wtq with the TMS airbox!
So, is the CSL airbox upgrade worth it? The deep & intoxicating intake growl is enough for us to unanimously agree that this is one of the best upgrades to get more character and enjoyment out of the S54, but the gains of over 20whp seals the deal!Â