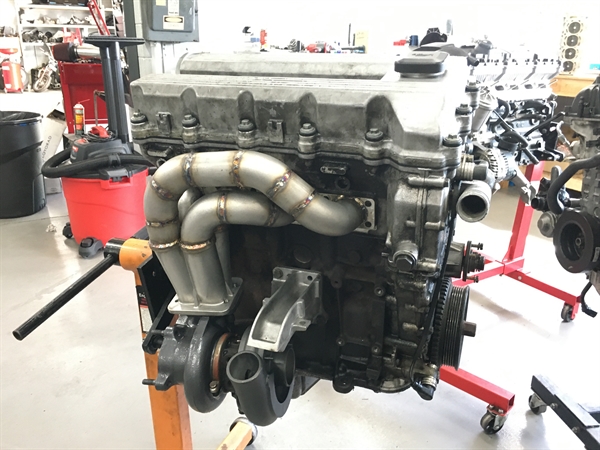 At

09-14-20 17:30:39

Evren Uner

Read Time: 2 minute read
E36 318Ti Build: Turbo Mounting
When it comes to turbocharger setups, the possibilities are nearly limitless, but some choices can make the endeavor more or less of a challenge. One of the first questions that must be answered is whether the turbo will be a 'top mount' or 'bottom mount'. Let's begin by discussing some of the benefits and drawbacks of each option:
Top Mount
Pros:
Flex-Factor, the turbo and downpipe will be very visible which can be a heavy influence for show oriented builds
Ease of access to turbo, and more space for larger setups
Natural oil drain
Cons:
Increased engine bay temperatures
Exhaust in close proximity to other components (hood, valve cover, electrical, etc)
Weight is biased high and far forwards
Bottom Mount
Pros:
Streamlined exhaust routing
Tighter packaging and shorter runners (Faster spool)
Weight is biased as low as possible and closer to the center of the car
Cons:
Turbo is minimally visible from above (could be a pro or con)
Potential oil drain issues (may require a scavenge pump to properly drain)
May require a turbo specific engine mount arm
Retaining the air conditioning with a turbo setup in an E36 chassis is possible regardless of top or bottom mount, and the difficulty in doing so depends on the exact setup (manifold/turbo/pipe routing). Many of our top mount builds retain AC by using our custom lines and fittings which route along the passenger edge of the engine bay.
The cover photo leaves no surprise here, but I have chosen to run a bottom mount setup for the 318ti. My objectives for this car in order of importance are to be as lightweight/balanced as possible, as fast as possible, and as unsuspecting as possible. Overall, the benefits of hiding the turbo down low lend themselves perfectly to my goals and desires.
First thing's first, I need to acquire all the materials needed to create a turbo manifold. The essentials are as follows:
M42 4cyl head flange (I simply cut 2 cylinders off of an M5x 6cyl head flange)
T3 flange and collector (This piece was from Ebay and transitions smoothly from each pipe to the turbo)
304L stainless steel pipe (I used off the shelf bends and straight sections of 1.5" schedule 10 pipe)
A spare engine to use as a reference/jig for fabrication
I picked up a complete running M42 w/ 250G transmission, and quickly got to work stripping it down: