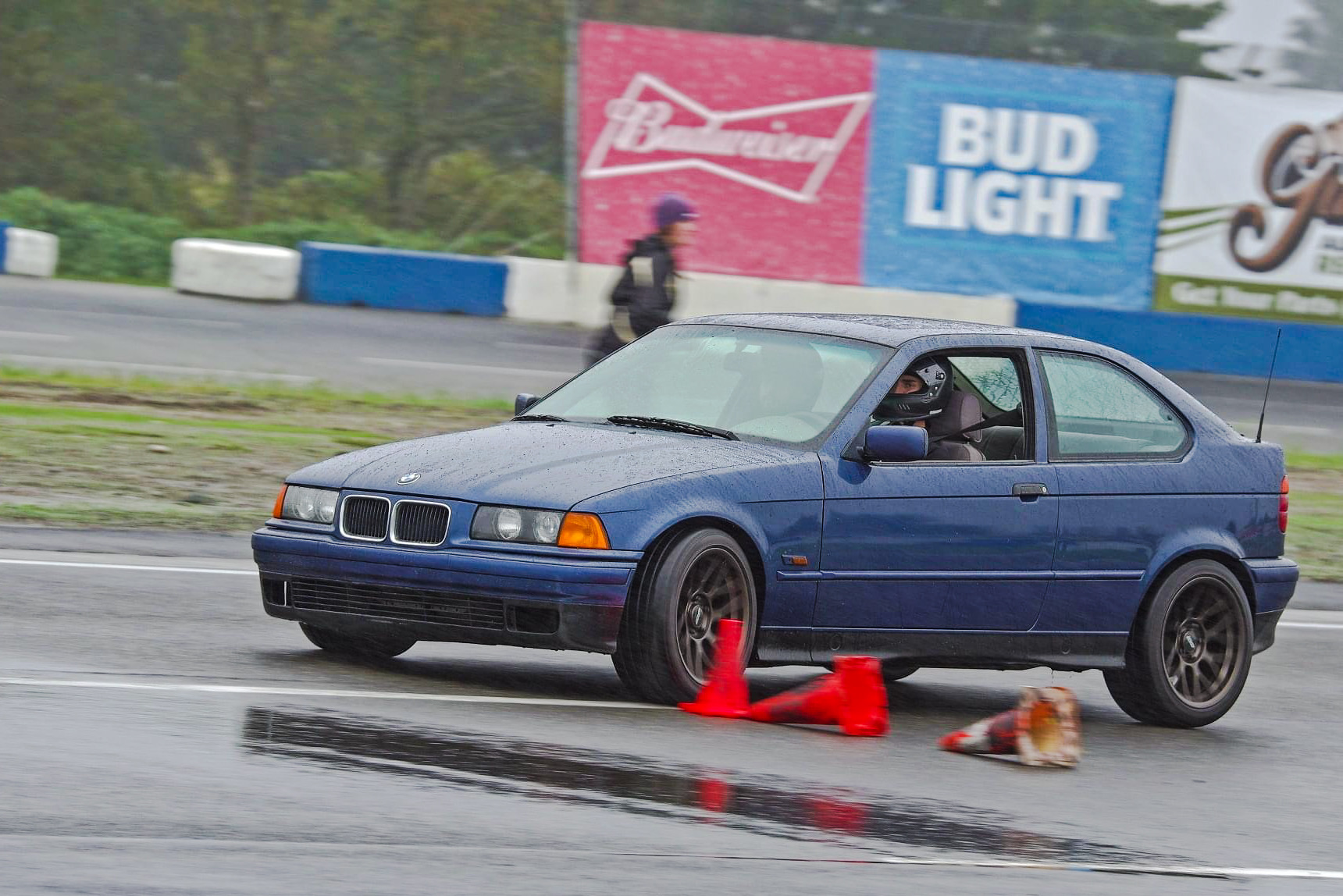 At

12-17-20 14:00:00

Evren Uner

Read Time: 2 minute read
E36 318Ti Build: Suspension
There are many ways to make a car fun to drive, but in my opinion, a proper suspension setup is the most important thing to focus on before anything else. If you want a car that feels legendary to drive, the suspension needs to respond exactly how you desire under aggressive driving conditions. That means using the proper components and adjustments for your power level, driving style, tire compound, budget, etc.
Quite a few vehicles are out there with heavily modified power-trains, but stock bushings/brakes/suspension. These cars can feel fun, but just try to push it a little further and you will find yourself fighting to keep it under control. Consider the array of rubber bushings deflecting with each input, compounded with body roll, weight transfer, and varying road conditions. This system can become unstable FAST, and when you are focused on cornering as fast as possible, trust me, what you want is a suspension that works for you, not against you.
The E36 has become a very popular chassis for track use, and with spirited drivers in general. The E36 coupe/saloon uses a relatively simple but effective suspension design with front MacPherson struts, and rear multi-link geometry with trailing arms. The E36 compact uses the same front suspension design, but an even simpler semi-rear trailing arm design.
The "compact" rear suspension naturally has the following drawbacks:
No static camber or toe adjustability out of the box
Significant camber and toe changes through suspension travel
Changes in wheelbase with suspension travel (shortens with lift)
Relatively "weak" rear differential mount (non-issue with less than ~350whp)
So, what's the fix? The truth is, there is no simple way to completely eliminate these factors, but the best we can do is limit them:
Add eccentric bolt adjustment for camber and toe via welded-on brackets for the trailing arm mounts
Limit suspension travel with stiffer springs
^^^^^^^^^^ Same Solution ^^^^^^^^^^
Reinforce the single ear mount point, or add a second ear to the diff and chassis
In this post, I will be tackling 1-3, since I don't plan on breaking any diff mounts with 137whp. 😎
First up, KW V2 coilovers with 96+ E36 m3 top hats (not pictured) swapped left to right for more camber:
Next, 95A poly bushings from Revshift in the subframe, trailing arms, front control arms, and differential. This subframe has camber and toe adjustability with welded on plates. Additionally, Stoptech braided brake lines and brand new front arms are going in: