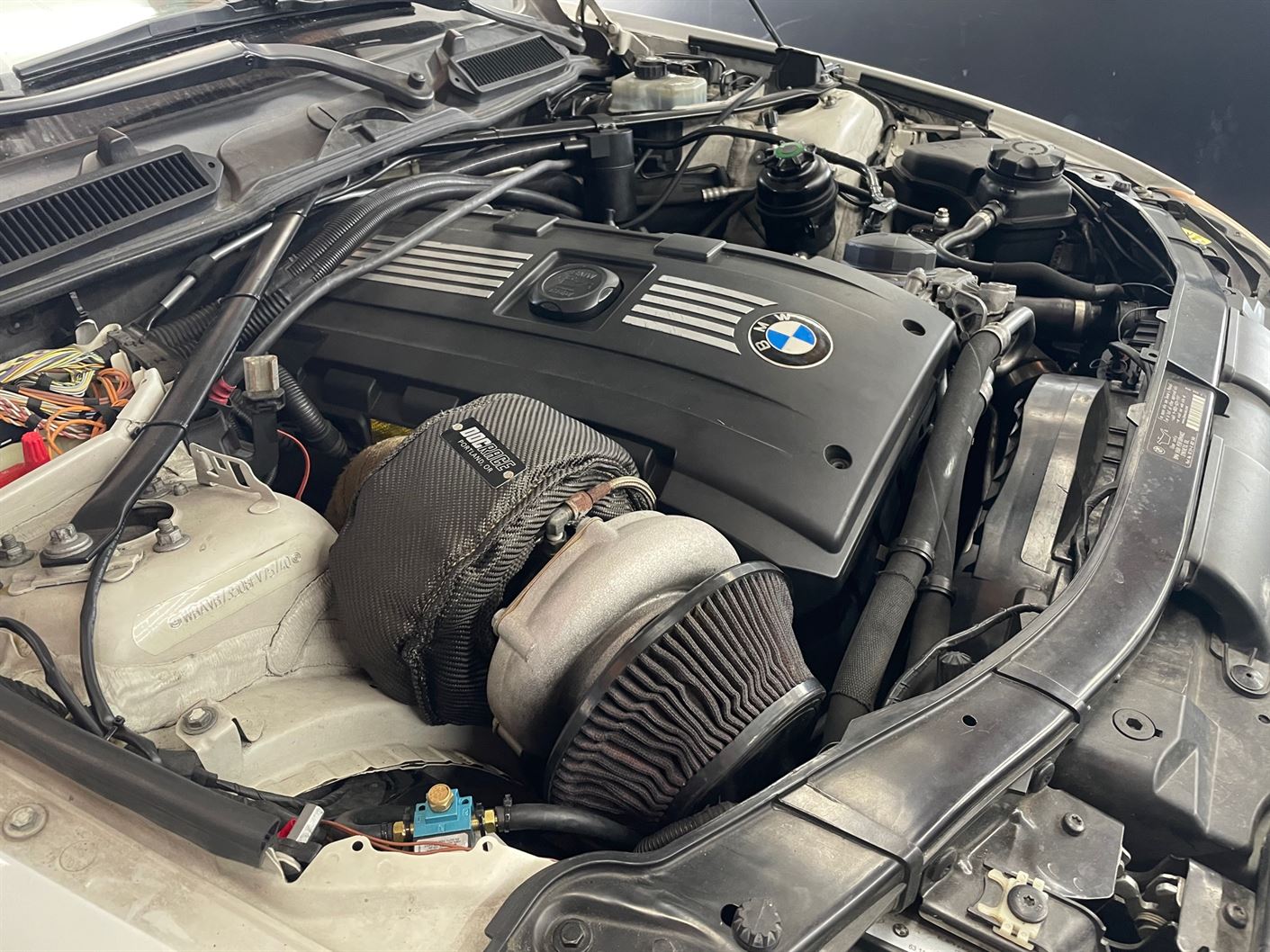 At

04-26-21 15:00:00

Evren Uner

Read Time: 1 minute read
750whp N54 Sleeper 335i
The BMW 335i has been an increasingly popular platform for enthusiasts, with its creature comforts, daily drivability, and growing aftermarket support. It would be wise not to underestimate any N54 powered craft, because even lightly modified specimens are capable of unleashing over 400ft-lb with any provocation.
Amongst the herd, we are occasionally confronted by an N54 that is so powerful, it makes you wonder why it isn't propelling an aircraft through the atmosphere. There have been plenty of N54's to cross the 1000whp mark with minimal changes to the engine internals.
With that much power, the drivetrain and suspension needs to be able to handle the abuse; usually this results in NVH (noise vibration and harshness) from upgraded driveline mounts, razor blade-like clutch engagement, and the screams of 1000+ Bald Eagles being amplified through an unrestricted exhaust system.
Or, we could take a ride in Jordan's 750whp 335i without even waking that Bald Eagle from his nap.
Taking the N54 from 3-4-5-6-700+ is a strategic result of focusing on the key limitations. The combination of direct fuel injection, precise engine management thanks to MSD8X ECU family, and an incredible level of engine/driveline robustness, makes the 335i an ideal creature to train.
Although the N54 is an extremely stout engine, there are several factors that have been strengthened before cranking the dial for Jordan:
1. Air delivery, maximum pressure capacity, and minimum intake temperatures:
Doc Race 6466 Single Turbo Kit

VRSF 7.5 stepped intercooler

Upgraded Charge pipe with Tial blow off valve

AEM true boost controller
2. Fuel (and Methanol) delivery:
Walbro 450 low pressure fuel pump

Snow performance VC-50

Prometh kit with braided lines(50 gph pump upgrade)

JAZ "econo rail" fuel cell (for meth)
3. Driveline and supporting:
DKM ceramic twin disk clutch

VRSF street exhaust

NGK colder spark plugs (gapped to 0.020")
In most cases, high horsepower N54's reach their immense fueling goals with the addition of port injection in parallel with the original direct injection system. However, we were able to achieve this power level by adding only methanol injection, with 6x 600cc nozzles (one per cylinder) and an extra 1000cc charge pipe nozzle! Although we have proven this system to be capable up to 750whp, we still recommend running true fuel port injection for more precise control when aiming for higher power levels!
Now, take a look at how the power curve changed throughout the session, from our baseline of 465whp to the final number of 747whp!